01:08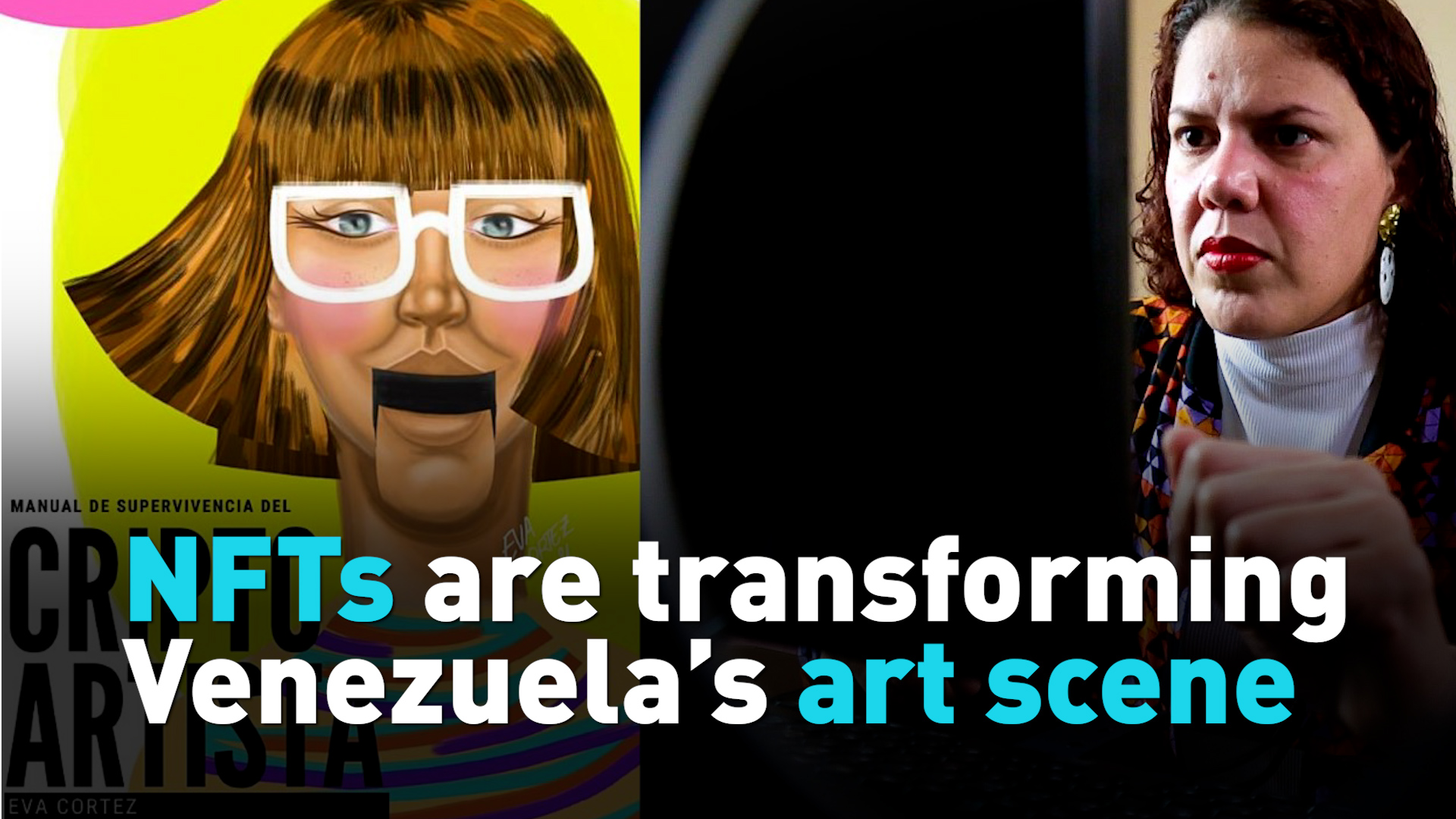 A new language is taking over Venezuela's art world. It has artists and art collectors talking about non-fungible tokens. The NFT is a creative solution for many Venezuelan artists struggling to offer their work to new audiences and to cope with soaring inflation.
Venezuelan artist Andrés Piña paints under the name Amarillo, the Spanish word for yellow. For the last 17 years, he's created abstract art and presented his work at traditional brick and mortar art galleries. Now he is using technology to take his art to the next level, transforming his paintings into digital files that can be traded for cryptocurrencies.
"The whole planet is working with NFT and we are waking up to that," says the new NFT artist. "There's a world where my art can reach other countries where it normally it could not."
At the NFT virtual galleries, some pieces are sold at a set price, and others are auctioned off to the highest bidder. Each piece comes with a digital certificate as a guarantee of authenticity and ownership.
For Venezuelan artists, NFTs provide a global window to present their work. They also provide a means for the artists to fight the country´s inflation. That is one of the reasons why Venezuela ranks among the top countries worldwide in crypto adoption.
One of Venezuela´s most popular visual artists recently put his first NFT collection up for sale on the Binance marketplace, a cryptocurrency exchange platform. Oscar Olivares says this new approach is benefitting well-known AND unknown artists.
"The artist can sell without an intermediary, without depending on an art gallery. This means for example that 12-year-old kids that probably no gallery would accept, can now make millions of dollars with their drawings," Olivares said.
Two years ago, Eva Cortez began offering her drawings on the NFT market. Now she's playing a role to help the NFT movement grow in Venezuela. She's selling her drawings using blockchain technology and she's written a step-by-step guide for artists on how to trade NFT collectibles.
"It is not a secret that our economy is devalued, so this is a way to safeguard the fruits of our labor, our incomes," Cortez said.
Many Venezuelan artists are transitioning to the NFT world, creating a larger community of followers, proving they can join art and technology to make a living with their art.
Check out The China Report, our new weekly newsletter. Subscribe here!
Source : Read More