American Idol To Release Contestant-Based NFTs On ThetaDrop – American Idol has announced that it will be launching a range of contestant-based non-fungible tokens (NFTs). The NFTs are part of the show's 20th anniversary celebrations and will be available on Theta Network's ThetaDrop NFT marketplace. In this season's show, each American Idol fan who purchases an "NFT Card Pack" for $99 will get a random Top 14 candidate NFT card. Also, collecting participant cards will offer collectors special gifts over five weeks, as more and more contestants are exit the show. The first week of rewards will be on Monday 25th April 2022. In the first week, collectors holding an NFT of only one of the remaining American Idol contestants will win an NFT with American Idol 20th Anniversary Animated Logo. To find out more about the opportunity, read more at InvestingCube.com
RuPaul, Jennifer Hudson, Billy Porter, and More Join Producing Team For A STRANGE LOOP Jennifer Hudson GOING HARD FOR THAT EGOT. The full producing team has been revealed for the Broadway production of A Strange Loop! Big names on the list include RuPaul, Don Cheadle, Jennifer Hudson, Mindy Kaling, Billy Porter, Alan Cumming, Benj Pasek, Justin Paul, and many others. Hudson tweeted, "I am so proud to be part of the team bringing this Pulitzer Prize-winning musical to Broadway. Trust me, u do not wanna miss this." Previews are underway. Get tickets HERE. – Read more at Broadway World.com
Diana DeGarmo & Ace Young to Lead the Cast of SKATES in Chicago – American Idol favorites Diana DeGarmo and Ace Young will lead the incredible cast of the new musical, Skates. Only in Chicago, this world premiere is the first major production in the newly-renovated Studebaker Theater inside the historic Fine Arts Building (410 S Michigan Ave, Chicago). Performances begin May 24, 2022 and the press opening is Sunday, June 5, 2022. This show was ready to open in March 20, and then the pandemic hit, and the show was postponed. – Read more at Broadway World.com
Tori Kelly And Jordin Sparks On 'Rugrats – Nickelodeon has announced that Tori Kelly and Grammy Award-nominated singer/songwriter Jordin Sparks has joined the cast of the original animated series Rugrats for a musical special about Angelica's doll from the original series. The special, titled "Rescuing Angelica, will premiere Friday, April 15 on Paramount+. Tori Kelly will guest star as Cynthia, Angelica's beloved doll, and Jordin Sparks will play Tabitha, another of Angelica's dolls. – Read more at Shadow and Act
Scotty McCreery Recalls Hearing Lauren Alaina Sing For the First Time on 'American Idol:' 'Oh My God, She Is Incredible' – During an interview with Audacy's Rob + Holly at the Tortuga Music Festival, McCreery reminisced about when he initially met Alaina. "I'll never forget the first time I met Lauren Alaina, it was Hollywood Week, and I'm listening to her sing thinking, 'Oh my God, she is incredible.' Thinking she's going all the way, and obviously she did." "It's been fun over the years," he told Audacy. "We're not talking every day, but it's still that brotherly/sisterly relationship when we do see each other we're catching up, hugging, asking how the families are. She doesn't need to hear any advice from me, because she's absolutely crushed it over the years. I love to turn on the radio and hear Lauren's voice." – Read more at Country Now
Gabby Barrett talks theme of her next album
The American Idol season 16 alum says "motherhood definitely affects all parts of your life," in a CMT Awards backstage interview with the Associated Press.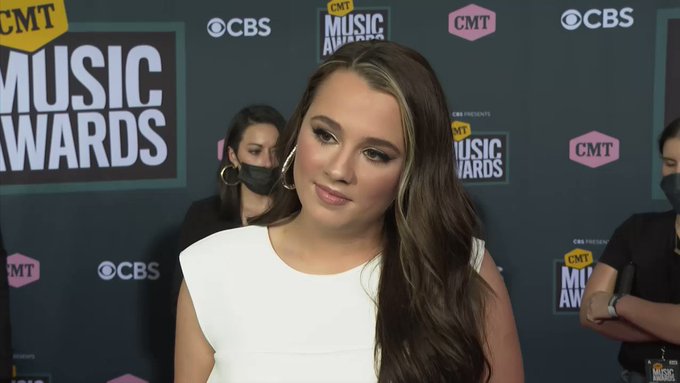 Gabby Barrett opens up about touring with her 1-year-old daughter, her husband's shorter hairdo, and her life from American Idol to now!
The American Idol alum chatted with Gunner & Cheyenne from Phoenix KMLE Country 107.9.
Founder and editor of mjsbigblog.com, home of the awesomest fan community on the net. I love cheesy singing shows of all kinds, whether reality or scripted. I adore American Idol, but also love The Voice, Glee, X Factor and more!
Source : Read More