Please try another search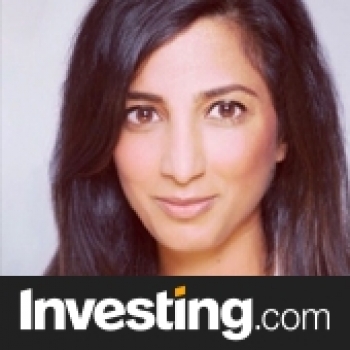 Cryptocurrency13 hours ago (Apr 02, 2022 07:30AM ET)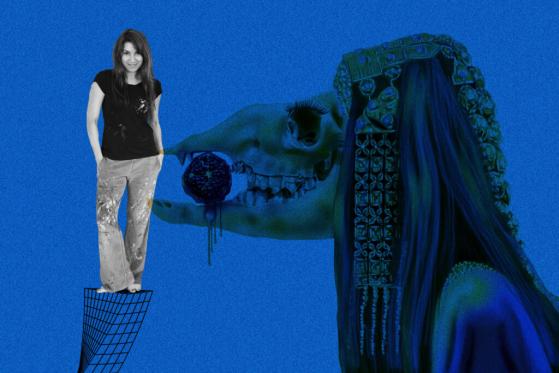 A Story About Arab Woman Artist Shurooq Amin Who Liberated Her Art Through NFTs
For the majority, NFTs are an investment, a ticket to becoming a part of a certain community, or a medium through which one can show off their limited-edition digital assets. Yet for artists, NFTs are a powerful tool, which offers freedom from censorship, complete autonomy, and true independence.
An artist from Kuwait, Shurooq Amin, told in an exclusive interview with DailyCoin, about her battles as a woman artist in an Arab country and how NFTs helped to liberate her artwork and achieve sovereignty in a society, where men dominate, and women are still discriminated against.
"My reason for being part of the NFT community is the freedom from censorship. For me, an artist, the ultimate thing is Web 3.0, which is autonomy. No one can censor me," Amin told DailyCoin.
Amin has been a traditional multidisciplinary artist for the last 30 years – producing acrylic paintings, art installations, and video art. When Amin was 40 years old and pregnant with her fourth child, she decided to divorce her husband, which is a shocking and unacceptable move in Kuwait's patriarchal society.
"As Arab Muslim girls, we go from our family's home to our husband's home, and we're dependent on the men for everything. I wanted to break out of that." She then found out that no one would rent her an apartment or give her a loan – all doors were closed to a divorced single mother.
"It was almost like living in the dark ages, almost like I had gone back 200, 300, 500 years. It was unbelievable. I got so angry, and frustrated that I expressed everything I was seeing around me on canvas," the artist explained.
She created a physical art exposition in Kuwait, which focused on the moral hypocrisy of the Arab Muslim society. Three hours after the opening of the exhibition, the Secret Service came and shut it down, removed paintings from the walls, and investigated Amin for several months. She was blacklisted by the government, her work was banned in Kuwait. Fortunately, the artist got adopted by a gallery abroad and started showing her work outside of her native country.
Amin established her name – she became the first Kuwaiti artist to get invited to the Venice Biennale and to have artwork auctioned at the historical Christie's Auction House. As she got many accolades during her years abroad, in January 2020, Amin was invited back to Kuwait.
The same month after the artist returned to her home country, she did a large show. Again – the police came in with the Secret Service Ministry of Information and removed all of her work. It became another scandal that went all through the media outlets in Kuwait.
Art to Expose the Hypocritical Society Norms
Amin created collections called 'Society Girls,' 'It's a Man's World,' and 'Popcornographics.' Her art criticizes the traditional norms and religious morals. She condemns society, where a woman must be a virgin before marriage (even if she is 40-50 years old), while this completely excludes men, who can have sex with as many partners as they want. Her art exposes corruption in politics and talks about adultery, uncovers the hypocrisy of the religious mullahs (religious leaders), as they preach about Islam, but then get caught in Cancun, drinking and partying with prostitutes.
"It's okay for a man to have mistresses, but if a woman is caught having sex with another man, it's okay to kill her. We still have honor killings in 2022. 'Article One' in our constitution says that if a man finds out that his wife, daughter, mother, sister, cousin, or niece has slept with a man who is not her husband, he's allowed to kill her, and he will not go to jail." The most popular artwork by Amin is the 'King of Hearts,' which depicts a never-seen-in-reality image of an Arab Muslim man kissing an Arab Muslim woman. In Muslim countries, it's illegal to show affection in public and those who kiss can easily end up in prison.
To have an image of a man wearing a traditional Arab costume and kissing a woman is very harsh and in-your-face, thus the painting caused an uproar in Kuwait and was banned. Yet it's simply a beautiful image depicting love.
Amin's newest collection called 'They Wanted Camels I Gave Them Camels' is a sarcastic response to haters and critics that have been judging her work with the following questions: 'Why is she doing this? Why is she painting these things about our culture? Why doesn't she paint camels and beautiful deserts? Our beautiful culture? Why is she painting these messages? Why is she showing us in a bad light?'
The Camel Skull collection is dystopian, dark, and twisted with an ironic response to the criticism. Amin used bright colors, beautiful women, and aesthetically pleasing pictures to take the focus away from its harsh message.
Being a Female Artist in a Muslim Country
In Kuwait, art is perceived as a hobby and not a career path. In addition, Arab men have a much easier chance in the art world, because they can get out of the house, and travel, they have more opportunities. There's still the double standard in society – patriarchy, where sadly only men are running the show.
"A lot of people have told me that if I was a man, who had painted such paintings and exposed such messages, I would not have been treated this way. I was treated this way because I was a woman who dared to go against them. But if I was a man, it would have been a different story," Amin shared.
"No one is doing what I'm doing. I'm the only one that's not scared to do what I'm doing and put the work and the message out there and expose the hypocrisy. A lot of people misunderstand my motive. My motive is not that I hate my country, or I hate my religion. It's not that at all, it's quite the opposite. My motive is to open a dialogue, have people talk about issues, to fix the rot," she added.
Achieving Artistic Freedom Through NFTs
After Amin's return back to Kuwait and the sudden closure of her second exhibition, COVID-19 appeared and shook the world in February 2020. The pandemic shifted the government's attention from Amin to the global health crisis – her investigations were postponed. During the worldwide lockdown, when everything became 'online,' Amin discovered NFTs. Throughout 2020, she researched, read, and tried to understand the new technology, and in early 2021, she began minting and listing her art.
"With NFTs, I can put my art out there and the government cannot capture, remove, censor, or ban it. The art is out of the government's hands, Web 3.0 is bigger than them. So for me, NFTs were a breath of oxygen, a breath of fresh air, it was like: 'wow, this is amazing, I can finally get my art out there with no censorship.' I got into NFTs for freedom – to actually find freedom in my self-expression, in my art, in my message, to have my message uncensored." Many still think that NFTs are a scam and not useful. Though people said the same thing about the internet when it first came out – no one believed in it, the artist spoke.
"People said the same thing about cryptocurrency when came out, and now look: those, who bought crypto, a long time ago are very rich now. And people who invested in the internet a long time ago, are very rich now. And it's not about the money, it's just simply about the fact that this is a natural evolution in technology. And because we, as creators, are really sick and tired and fed up with being censored and being told what to do. That's not art, that's not true creation, it's not even just about being a painter: whether you're a musician, a photographer, a dancer, a videographer, or a screenwriter, you will find your freedom in this space, because we were all going to end up in the metaverse. That's the fact. It's just a matter of having the vision, some artists have that vision, some don't." Amin sells her NFTs via OpenSea and has established a long-term partnership with the "Give Kuwait" platform, which is a gateway to internationally registered-verified charities around the world. The artist donates 50% of all her NFT sales and every month, they choose a different charity and provide a link to see where the money's going, for full transparency.
EMAIL NEWSLETTER
Join to get the flipside of crypto
Upgrade your inbox and get our DailyCoin editors' picks 1x a week delivered straight to your inbox.
[contact-form-7 404 "Not Found"] You can always unsubscribe with just 1 click.
Continue reading on DailyCoin
Related Articles
AVAX traders anticipate a new ATH even as Avalanche DApp use slows By Cointelegraph – Apr 02, 2022
Avalanche (AVAX) jumped 43.8% between March 14 and March 31 to a $97.50 daily close, which is the highest level since Jan. 5. This layer-1 scaling solution uses a proof-of-stake…
SEC rejects ARK 21Shares spot Bitcoin ETF application By Cointelegraph – Apr 02, 2022 2
The United States Securities and Exchange Commission, or SEC, has officially disapproved the application for the ARK 21Shares Bitcoin exchange-traded fund (ETF). In a Thursday…
Price analysis 4/1: BTC, ETH, BNB, SOL, XRP, ADA, LUNA, AVAX, DOT, DOGE By Cointelegraph – Apr 02, 2022 1
Bitcoin (BTC) has clawed back much of the losses that took place in January and now the focus of traders shifts to April, which has historically been a strong month for the…
Disclaimer: Fusion Media would like to remind you that the data contained in this website is not necessarily real-time nor accurate. All CFDs (stocks, indexes, futures) and Forex prices are not provided by exchanges but rather by market makers, and so prices may not be accurate and may differ from the actual market price, meaning prices are indicative and not appropriate for trading purposes. Therefore Fusion Media doesn`t bear any responsibility for any trading losses you might incur as a result of using this data.
Fusion Media or anyone involved with Fusion Media will not accept any liability for loss or damage as a result of reliance on the information including data, quotes, charts and buy/sell signals contained within this website. Please be fully informed regarding the risks and costs associated with trading the financial markets, it is one of the riskiest investment forms possible.
Source : Read More